Home-made Yoghurts
From the one star french chef Patrick Asfaux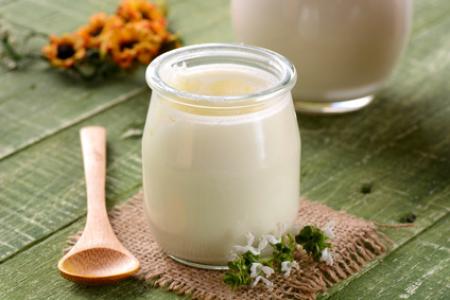 Prepare time :
Cooking time :
Total time :
A very simple recipe for home-made yoghurts

For 6 pots
1 liter whole milk (whole milk is recommended to get unctuous yoghurts)

2 table spoonfuls milk powder

1 plain (unsugared) whole milk yoghurt

instrument/tool : a yoghurt maker
Progression
1/Pour one drop of water into a saucepan so that milk will not stick. Pour your whole milk and heat it until boiling and then stop heating
2/Put the milk powder into a salad bowl and then, when the temperature of the liquid milk (carefully check with a thermometer) is down to 45°C (113°F), pour it gently and slowly while stirring onto the milk powder and continue stirring until all lumps have disappeared and then add (the first time you make yoghurts) a plain unsugared whole milk yoghurt you have purchased and stir for incorporating it
3/Pour the mixture into the 6 pots, put the pots into the yoghurt maker and switch it on. Because it is an automatic machine, it will switch off itself. Wait a little time before putting the yoghurt pots into the fridge
When you want to make a second batch of 6 yoghurts, use the last one of your home made yoghurts to repeat the recipe.
Because of the lactic leaven weakening, every 4 batches of yoghurt making, use a newly purchased one
credits photo : yaourt © al62