Paté from Lorraine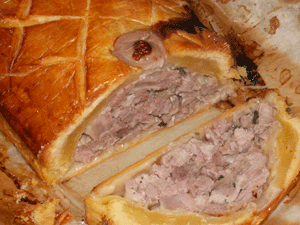 4.9

/

5

(

107

votes)
Prepare time :
Cooking time :
Total time :
Repos : 12 heures
For 4 guests
250 g of veal cushion

250 g of pork loin

500 g of puff pastry

1 egg

1 tbsp milk

2 shallots, finely chopped

1 bunch of parsley

1 twig of tarragon

1 thyme branch

2 garlic cloves, finely chopped

1 dl of white wine

Fine salt and freshly ground pepper
Progression
The day before:
Cut the veal into pieces (each should be 1/2 cm wide and 5 cm long).
Mix the meat slices and the finely chopped garlic and shallots with 1 dl of white wine in a large bowl. Add the parsley, the tarragon and the thyme. Add salt (1/2 teaspoon) and pepper. Mix well and cover this stuffing with plastic film and leave to marinate for 12 hours in the fridge.
Next day:
Roll-down the puff pastry, forming two separate rectangles, until the pastry is only 2 to 5 mm thick. One rectangle should measure more or less 35 cm as it will be used for the base and the edges, and the second rectangle should be slightly smaller, 30 cm, serving as a top cover. Place each rectangle on a hotplate and set aside in the fridge for 1 hour until they become firm.
In order to make the paté, place the marinated stuffing in the center of the largest rectangle, being careful to leave a 6 cm margin all around it (for the paté edges). Fold the larger sides of the rectangle over the stuffing, without overlapping. Then fold the other two sides and remove any excess pastry below them in order to avoid having too much pastry above the stuffing. Whisk together the egg, the milk and a pinch of salt. Brush this mixture over the pastry edges. Fold these edges and make them stick together.
Cover the paté with the second rectangle. Eliminate any excess pastry and press gently with the tip of your fingers so that both pastries stick together well.
Brush some more of the egg mixture over the whole surface. Take a knife and open 1 or 2 small holes in the pastry in order to let cooking vapor escape easily. Decorate with a crisscross design over the pastry using a knife.
Place the paté in the fridge for 30 minutes so that the pastry becomes firmer.
Preheat the oven at a temperature of 400°F (200°C), using the oven's ventilated position, if possible.
Cook in the middle of the oven for 45 minutes at a temperature of 400°F (200°C), then for 15 minutes at 375°F (175°C).
You may serve this paté from Lorraine with a green salad, for example.
credits photo : © couet ivan