Potee Lorraine
From the one star french chef Patrick Asfaux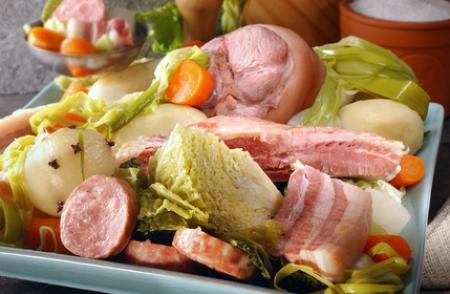 4.9

/

5

(

14

votes)
Prepare time :
Cooking time :
Total time :
Repos : 12 heures
Potee Lorraine for 6 guests
1 cooking sausage, weighing 450 gr

600 gr of smoked pork shoulder

300 gr of smoked pork breast

50 of fatty bacon, cut in cubes

1 green cabbage

4 carrots, diced

2 turnips , diced

4 leeks

6 medium potatoes

150 gr of green beans

150 gr of dried white beans

2 onions, one of them spiked with 3 cloves

2 garlic cloves, degermed and crushed

1 bouquet garni
Progression
Soak the white beans the night before .
Next day:
Use a large cast-iron pot (Creuset style pot). Melt the bacon in the pot and then add the onion and the chopped leeks, as well as the diced carrots and turnips (1 cm cubes). Add the bouquet garni and the garlic.
Cover and leave the vegetables to sweat for 15 min. Then add the shoulder and cover with water. Add pepper (no salt) and the spiked onion.
Leave to simmer for 1 hour.
Cut the cabbage into 4 and remove the core, add it to the saucepan with the white beans and
the pork breast.
Add some water or stock and leave to simmer for another hour and a half.
Next, add the sausage (pricked with a needle to ensure even cooking), green beans (peeled, washed and cut into long "sticks") and the peeled and slightly rounded potatoes.
Add water if needed and leave to cook for 20 min.
Total cooking time will be approximately 3 hours.
Place the vegetables in a large dish. Add the sliced meats and the peeled and sliced sausage on top.
This recipe is from the region of Lorraine but it is also served in many other French regions such as Berry, Auvergne, Bretagne, etc...
It is always made with cooked vegetables and smoked or salted meats. One of the most original recipes is called the Potée Artésienne. It is made with the following meats: 1/2 boned pork head, mutton breast, slightly salted bacon and one whole andouille.
credits photo : © SOLLUB