Chocolate and hazelnut brownies
From the one star french chef Patrick Asfaux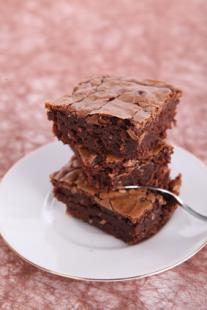 Prepare time :
Cooking time :
Total time :
Chocolate and hazelnut brownies for a family of food lovers
70 gr of dark chocolate (more than 50% cocoa)

200 gr of caster sugar

50 gr of butter

2 egg yolks

75 gr of flour

100 gr of hazelnuts, dry roasted and cracked
Progression
Bring to the boil 2 tbs of water, just as it starts simmering add the chocolate and the butter, remove from the heat and stir well. Let the mixture cool down until lukewarm.
In a large bowl whisk the eggs and the sugar until the mixture takes a light yellow colour, then add the warm chocolate, the flour and half of the hazelnuts.Start your oven at 325°F (160°C).
Pour the batter into a large square or rectangular baking tin (Teflon or silicon).
Cook for 30 min at a temperature of 325°F (160°C).
Remove from the tin and cut the cake into even squares (putting your knife in some cold water each time you cut). Sprinkle with the remaining hazelnuts.
Serve this chocolate and hazelnut brownies with some caramel flavoured custard for example. The absolute best!!!!
credits photo : © Vely - Fotolia.com