Rack of Pork Roasted in Milk
From the one star french chef Patrick Asfaux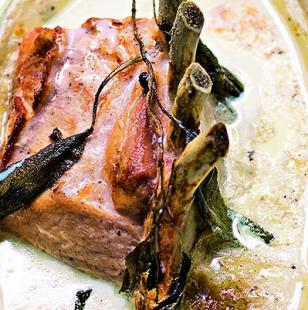 4.7

/

5

(

11

votes)
Prepare time :
Cooking time :
Total time :
This is a very old and original recipe which will make your guests or friends discover new flavours. On top of that it is a very handy dish as it has to be prepared the day before, you will only have to put it together on the day.


Rack of pork roasted in milk recipe for 6 people :
A rack of pork of 1.5 kg

1 onion, diced up

1 carrot, diced up

5 leaves of fresh sage

1 sprig of thyme

1 bay leaf

2 litres whole milk

2 cucumber, seeded and cut in very fine batons

The juice of half a lemon

50g of butter

salt and freshly ground pepper
Progression
The day before :
1) In a cast iron pot, melt down the butter with a little vegetable oil and colour your rack of pork until golden brown on all sides. Season well.
2) Start your oven at 180'C (356'F)
3) When your joint is ready, add the onion, carrot and herbs into the pot and allow to gently sweat off for 5 minutes. Then, add the milk.
4) In the ingredients list I wrote 2 litres of milk, but you might need a little more or a little less to cover your rack of pork. The main thing is to have the meat covered with the milk.
5) Bring to the boil on the stove, season well and place in the oven. Roast for 2 hours, turning your joint every 30 minutes.
6) Meanwhile, blanch the cucumber by plunging your batons in salted boiling water for a minute and cooling them down straight away in iced cold water.
strain them and set aside in a bowl.
7) When your roast is done, carefully take it out of the milk and place it on a tray. Take the bay leaf out and blitz the cooking liquid. Reduce down to a creamy consistency and set aside with a nob of butter on the top to avoid crusting.
8) Let your pork as well as the sauce cool down and place all your ingredients into the fridge.
On the day :
1) Slice up the cold meat and place them on a shallow tray.
2) Gently cook off the cucumber with 40g of butter. Then add 3 tablespoons of milk sauce and the lemon juice. Season well. Bring to the boil and set aside.
3) Bring the sauce to the boil and pour it on the top of the meat. Dress the tray with the cucumber all around it and serve.
If you wish to use a rack of veal to make this recipe you will have to cook it for 1h45 instead of 2h.
You may ask yourself : why do I have to make this recipe the day before? Well, if you try to slice your joint straight away, you will end with a mashed roast of pork. So, when refrigerated for few hours your roast will gain a bit of consistency allowing you to slice it easily.
Please, let me know what your guest or friends think of it.
credits photo : Chef patrick Asfaux