Traditional-style confit of porc
From the one star french chef Patrick Asfaux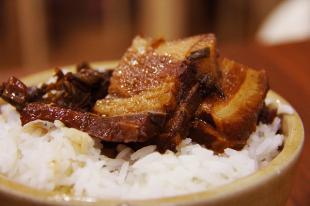 Prepare time :
Cooking time :
Total time :
Traditional-style confit of pork for 6 to 8 persons :
2 kg (4 lb) boneless pork filet

8 garlic cloves, degermed and cut in long sticks

3 shallots, peeled and cut in 2

thyme and bay leaves (2)

100 grams (3 oz) coarse sae salt

10 grams (1/3 oz) crushed black pepper beans

500 grams (2 lb) lard (pork fat)
Progression
1/pre-heat the oven at 290°F
2/pour the lard into an ironcast deep pan and melt it down. Add the crushed pepper and the 2 bay leaves, a little thyme and the shallots
3/in the meantime, prick the pork filet, insert the garlic sticks in it and roll the filet into the salt and put it into the pan. Cover with a lid, make the fat sligntly boiling and put the pan into the oven during 3 hours
4/take the pork out of the pan with care using a skimmer, put it in a large bowl, filter the fat and pour it onto the pork to cover it. Let it cool down and keep it into the fridge for at least 2 full days before heating it.
It it cold on roasted bread or in slices with a salad or roast the porc slices and serve it with potatoes browned in the pork fat : the taste is a miracle ...
credits photo : © Couet Ivan - A.F.Touch