Stuffed cabbage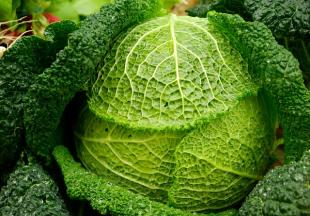 Prepare time :
Cooking time :
Total time :
One stuffed cabbage for six people
1 nice green cabbage

3 carrots

3 onions

3 cloves of garlic

1 kg potatoes

200 g smoked bacon

For the stuffing:

350 g minced shoulder of lamb

350 g minced chine of pork

350 g minced veal

1 egg

parsley, sage, thyme
Progression
1- Pull off the leaves of the cabbage and blanch them in salted boiling water for 5 mn.
Let them cool in cold water and strain them thoroughly so that they do not give out their water when you cook them
2- Prepare the stuffing by mixing the minced meats with some minced parsley. Add the egg, salt, pepper and mix up the lot.
3- Peel your vegetables and chop them up roughly.
4- Prepare four 80 cm-long pieces of cooking string and dispose them in a star shape on your worktop (they should cross in their centre in the middle of the table).
5- Keep aside one big cabbage leaf. Place three overlapping leaves in the centre of your "star". Then a little stuffing in the centre, then more leaves to reconstitute your cabbage and so on. Finally, cover your cabbage with the big leaf you kept aside.
6- Now use each string to close your stuffed cabbage and give it back its original round shape.
7- Place your cabbage into a large dish with the vegetables, garlic and smoked bacon cut into big dices.
8- Bake for 1h30 at 230°C.