Cider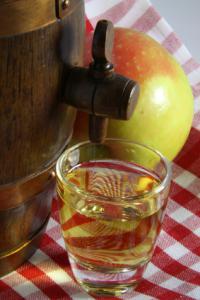 High-Normandy is an area of contrast. Contrast between Seine-Maritime turned towards industry and Eure turned towards agriculture, contrasts between the coasts and the maritime activity and the interior of the grounds where the markets abound in products of the local soil. But everywhere you will find Cider, the typical regional drink. Admittedly Cider is drinked in all the areas of France but Normandy is one of the areas headlights of the Cider production and this since always. The apple and the apple trees indeed from time immemorial made the high-Norman landscape.
Here Cider is produced from generation to generation in the farmers of the area but they are not only. Many private individuals continue to maintain this tradition and it is not rare, when apples are ready to be pressed, to see, even downtown a press to move at private individuals. One then produced there an elaborate family cider with love which will satisfy all the generations throughout the year... Taste this fresh Norman Cider in summer in the shade of an arbour, you will learn how to appreciate all subtleties of it.
credits photo : © Jean-Luc GIROLET - Fotolia.com
Vous êtes producteur, vous pouvez facilement et gratuitement ajouter vos coordonnées ici et ainsi faire connaitre votre production à tous nos visiteurs.


---