Pan-Bagnat
From the one star french chef Patrick Asfaux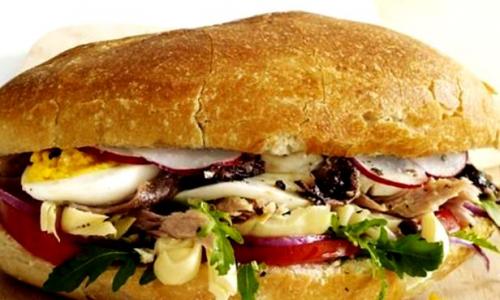 Prepare time :
Cooking time :
Total time :
Pan-bagnat comes from the old Provençal language and means wet bread. Basically, they are traditional small sandwiches from the south of France.

Recipe for 8 pan-bagnat
8 small round bread rolls

For the salad :

3 tomatoes, seeded and cut in 4

1 cucumber, peeled halved and finely sliced

1 green pepper, seeded and finely sliced

4 spring onions, finely sliced

100g pitted black olives

some fresh basil, chopped

For the seasoning :

some olive oil

some wine vinegar

salt and freshly ground pepper
Progression
Cut your bread rolls in half and rub a clove of garlic in the inside of the bread. Then, "wet" the rolls with some vinegar, olive oil and season with salt and pepper.
Take your pan-bagnat, place some of the salad on the flat side of the bread rolls and garnish with a few slices of a hard boiled egg as well as few fillets of anchovies and some tuna in olive oil.
Finally, close your bread rolls tightly and put them in the fridge for at least an hour.
Imagine a hot sunny afternoon in your garden listening to the birds enjoying your pan-bagnat with a nice glass of chilled French rose wine.
credits photo : patrick Asfaux© A.F.Touch