Baked Pancakes Picarde Style
From the one star french chef Patrick Asfaux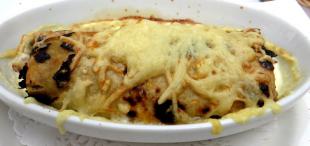 Prepare time :
Cooking time :
Total time :
Baked Pancakes recipe for 4 people
4 slices of cooked ham

2 veal brain, cooked and skinned

8 salted pancakes

100g finely chopped shallots

400g finely chopped button mushrooms

100g butter

4 dl double cream

20g plain flour

150g grated Gruyère cheese

salt and freshly ground pepper

a pinch nutmeg
Progression
1) Sweat off the shallot for 5 minutes with butter. Then, add the flour and allow to cook for another 5 minutes. Pour in the cream and cook until thickened a little bit. Add the mushrooms, season well and cook for 5 more minutes.
2) Dice up the ham and brain and add them to the sauce. Season with pepper and nutmeg.
3) Slowly cook the mixture for 10 minutes.
4) Place your pancakes on a clean surface. Place some ham and mushroom mixture in each pancakes. Then roll them up.
5) Start your oven at 210'C (410'F).
6) Place your pancakes in a shallow oven dish and pour the rest of the sauce on the top and sprinkle the cheese, all over, to finish. Bake for 10 minutes.
Serve straight out of the oven.
This dish is known as "ficelle Picarde"-Picarde's string- because of the shape given to the pancakes.
credits photo : © Asfaux.Patrick- A.F.Touch-cuisine