Meringues
From the one star french chef Patrick Asfaux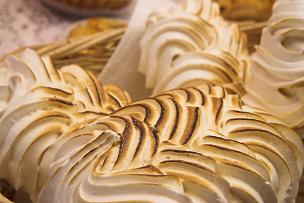 Prepare time :
Cooking time :
Total time :
Recipe for about 10 small meringues
4 egg whites

250g caster sugar

1 packet vanilla sugar
Progression
Prepare a double boiler and place a bowl over it. Put your egg whites along with the sugar and vanilla sugar into the bowl.
Whisk this egg whites until you obtain a firm, stiff, fluffy foam.
Take the bowl off the bain-marie and keep whisking the eggs until they have totally cool down.
Start your oven at 80C (176F).
Lay your meringues with a piping bag, giving them the shape that you want. Put them in the oven. Keep the oven door ajar with a cork.
The meringues are cooked when you'll be able to hear them crackle a little and they will come off your baking tray by themselves.
credits photo : © Sean Nel - FOTOLIA