Ras Al-Hanout
From the one star french chef Patrick Asfaux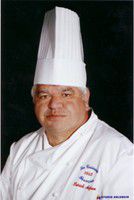 Prepare time :
Cooking time :
Total time :
This is a spice mix that takes its origine in North African countries.
In arab it means
"the head of he shop".

Which means that you see a good spice shop owner at the way he mixes its spices to make his ras al-hanout.
Progression
This spice mix is made of:

Dried rose buds
Cinnamon
Mace
Cardamon
Clove
Chilli
Curcuma
Galangal, piper cubeba,etc,etc