Courgette Flower Fritters
From the one star french chef Patrick Asfaux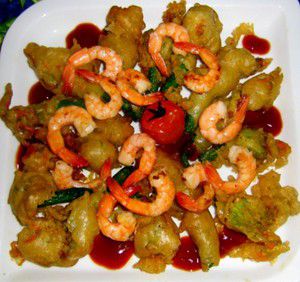 Prepare time :
Cooking time :
Total time :
Courgette's flowers fritters recipe for 4 people :
24 courgette (zucchini's) flowers

batter for the fritters :

80g strong flour

1 egg, separated

1 tablespoon finely chopped parsley

15cl milk

salt and freshly ground pepper

1 tablespoon olive oil

2 litres rapeseed oil
Progression
1) Sweep the flowers and cut the stems off. Delicately put them on a tray.
2) Make your batter :
a) Put the flour into a bowl and make a well in the centre. Then, add the salt, pepper egg yolk and olive oil and start whisking the milk in, slowly. Then fold in the parsley.
b) Whisk the egg white until stiff and carefully fold it in the batter.

3) Heat up the rapeseed oil to 150'C (302'F)
4) Grab a courgette flower by the base and gently plunge it into the batter. Then, carefully put it in the fryer. Cook your courgette flower 4 by 4 until golden brown. When done place all the fritters on some kitchen paper.
5) Set your fritters on a nice plate with a dip of spicy tomato sauce.

You can serve these fritters warm as a starter or as an accompaniment.