Chocolate Marquise
From the one star french chef Patrick Asfaux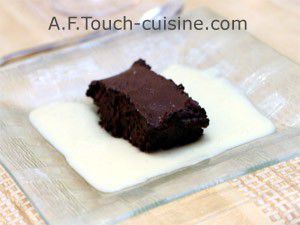 4.9

/

5

(

20

votes)
Prepare time :
Cooking time :
Total time :
The great thnig about this recipe is that when it comes to serve your dessert course, you will just need to take it out of its mold, cut few nice slices with a knife that has been dipped in hot water and place one or two of them at the center of a nice dessert plate. Then you will just have to pour a ribbon on anglaise sauce (custard) around it and maybe garnish your plates with a slice of candied orange e.g and that is it.
Easy as pie!

Recipe for a chocolate marquise for 8 people
300g of dark cooking choclate (at least 60% cocoa)

190g butter

6 eggs (egg and yolks separated)

120g of caster sugar

2cc of coffee extract (kahlua will do fine)
Progression
1) Melt down your butter in a pot, set aside in a warm place.
2) In a large bowl, place your egg yolks and the caster sugar and whisk energeticaly, until the mixture reaches a kind of white-ish color.
3) In a seperate bowl whisk the egg whites until stiff (a little tip: add a small pinch of salt to the whites before starting).
4) Break the chocolate into pieces, put them into a bowl that you will place over a pot of simmering water (technic also known bain-marie or double boiler). Melt down the chocolate as quickly as possible while stirring at all time. This is essential that the chocolate melts quickly*. Mix in the coffee extract.
5) Now mix the warm chocolate with the egg yolk-sugar mixture. Add the melted butter. When the mix is homogeneous, start folding in the egg whites (starting by whisking in about two big spoon of egg whites). Here, the technic is to place the rest of your egg whites on the top of the chocolate mixture and with a spatula, delicately bring the mixture at bottom of the bowl to the top of them, then turn a little bit your bowl and repeat these operations until all the egg whites are folded in.
6) Take a cake mold of some sort, moist the inside of it with some iced cold water, then pour your marquise mix into it. Now, all that is left ot do, is to put it in the freezer.
And that is all for this recipe, not bad isn't it!
You will be able to find the
anglaise sauce or French custard in our desserts section. Then take a dozen of coffee beans, crush them, cook them on a hot, dry pan for 1 minute or so and mix them in the Anglaise sauce.

* When you are melting chocolate, it is important to do it as quickly as possible to allow the chocolate to keep its strength, depth, shine and color.


credits photo : © Couet Ivan - A.F.Touch