Chocolate charlotte
From the one star french chef Patrick Asfaux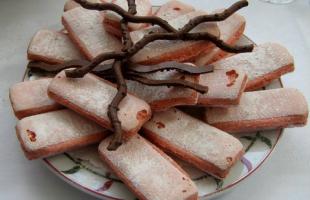 4.9

/

5

(

24

votes)
Prepare time :
Cooking time :
Total time :
A chocolate 'charlotte' for 6 'serious' persons
200 grams of black chocolate (over 50% cocoa)

4 egg yolks

2 soup spoons of thick cream

6 egg whites

150 grams of fine granulated sugar

350 grams of sponge/lady finger biscuits

1/10 liter of strong black coffea
Progression
As a first step, cut one end of the biscuits so that they can stand up in a charlotte mould, bevel some other biscuits in 2 parts and cut them to get heart shapes and made a trial at the bottom of the mould like making a rosette. Align, on a large dish, your biscuits, their round face side down and with a brush, moisten them with the cold coffea and keep them in the fridge during 30 minutes.

In a double boiler, let the chocolate just melt (it must be only warm), smooth it out with a whip, add the yolks, then the cream and keep it in the fridge while you whisk the egg whites to form stiff peaks. When peaks are forms, whisk quicker adding the sugar.
Incorporate with a wooden spatula the egg whites into the chocolate by lifting the eggs up and by cutting them with great care with the spatula then put the whole in the fridge.
Setting up the charlotte :
Install the biscuit rosette in the bottom of the mould (the round face outside) and your biscuits all around, the cut part in the bottom and the round face outside ; then, with a knife, make the upper part all at an equal level.
Keep all the small cut parts of the biscuits and the remaining biscuits, cut all of them into small dice and let them marinade in the remaining coffea.
Pour 3 centimeters (slightly above 1 inch) of your chocolate cream, then a small quantity of the marinated pieces of biscuit dice and repeat these layers up to the top of the mould.
Keep the charlotte in the fridge during at least 3 hours.
Take the charlotte off the mould with care and put it on a nice round dish, round it with a nice ribbon and sprinkle with a mixture of cocoa powder and icing sugar.
Serve it with a vanilla custard with pieces of roasted hazelnuts for instance. You can also be imaginative by substituting other kinds of biscuits (like dry finger biscuits or pink biscuits from Reims - main city of the Champagne area).
Test and taste this charlotte and tell us how your guests have reacted !