Wafer Crepes
From the one star french chef Patrick Asfaux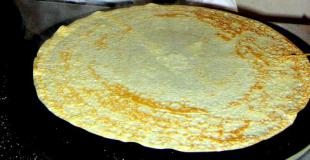 4.7

/

5

(

15

votes)
Prepare time :
Cooking time :
Total time :
I have tested several recipes and cooking methods when it comes to make wafer crepes. My recipe is a compromise between 2 classic recipes: one cooked on a pan and one cooked on the traditional Breton griddle the bilig. I am sure that most purists will be pissed off by this but the main thing is that you are able to make wafer crepes easily.


recipe for 12 large wafer crepes:
500g strong flour

6 eggs

70g melted salted butter

1/4l milk mixed with 1/4l water

2 packets of vanilla sugar (2tsp)

To garnish them:

Compote, sugar, golden syrup, jam, chocolate spread...
Progression
1) Place your flour into a bowl and make a well in the middle. Pour the beaten eggs and vanilla sugar and the butter in and start mixing the lot making sure not to make any lumps. Then, start incorporating the milk until it gets to the right consistency (not too thick, not too thin).
If you see few lumps, not to worry, just pass your batter through a sieve.
2) Cover the batter and allow to rest for, at least, one hour.
3)Cook your crepes onto a hot, slightly oiled pan by rapidly spreading a small amount of the batter onto the whole surface of your pan. Cook for 10 seconds, then flip over and cook for another 10 more seconds and clear it onto a plate. Repeat this operation until all the batter has been used up.
There are the two patented methods to cook wafer crepes:
If you cook your crepes over a low heat your crepes will be crispy. In the other hand if you cook your pancakes, quickly, over a high heat they will be soft.
Me, for sweet crepes I take a plate and every time I add a new crepe onto the pill, I sprinkle some caster sugar on it and put a another plate on the top of the last one on.
This recipe is a base. I let it up to you to create new recipes from this one, your imagination is the limit!
credits photo : patrick Asfaux© A.F.Touch