Lawyers crayfish
From the one star french chef Patrick Asfaux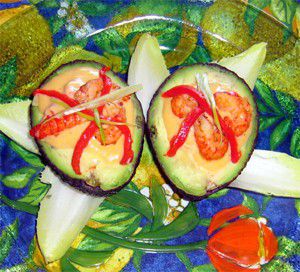 Prepare time :
Cooking time :
Total time :
Lawyers crayfish Recipe for 4 :
4 ripe avocadoes

120g cooked fresh water crayfish

1/2 red pepper

some chives or chervil

For the cocktail sauce :

1 egg yolk

1 tablespoon of Dijon mustard

salt and pepper

5 cl (2 fl oz) rapeseed oil

1 tea spoon tomato paste

1 dash of brandy
Progression
-1- Make a mayonnaise sauce with the egg yolk, the mustard and the rapeseed oil. Season well. Then add the tomato paste and the brandy.
-2- Cut the avocadoes in half. Take the stones out.
-3- Put 16 crayfish tails to the side to garnish the avocadoes at the end. Brush them with some olive oil to give them a nice gloss.
-4- Mix well the rest of the crayfish with the your cocktail sauce. Evenly, fill up the avocadoes.

Arrangements:
Place a couple of lashings of red pepper on the top of each avocadoes, then two tails of crayfish and finish with a couple of sprigs of chives or few leaves of chervil.
It is a delicious idea, for a summery starter.

Tip: Cut a small base on each side of the avocadoes before cutting them in half. This way they will stand steadily on your plates.