Chocolate Chip Mousse
From the one star french chef Patrick Asfaux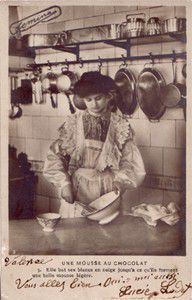 5.0

/

5

(

4

votes)
Prepare time :
Cooking time :
Total time :
Chocolate Chip Mousse recipe
makes 6 small bowls
200 g of dark chocolate (60% minimum) + 30 g of choolate for decoration

20 cl of cream

30 g of butter

3 eggs

80 g of sugar

1 tablespoon coffee extract (Trablit)

60 g of chocolate chips
Progression
Using a peeler and a grater, make chocolate shavings and put them in a large bowl, set 6 of them aside (the ones that look nicer) as they will be used for the final decoration.
Boil the cream and pour it over the chocolate, smooth it out carefully (the less you mix the chocolate, the less it will get hot, the more the taste is kept).
Add the cold butter cut into small pieces and then add the 3 egg yolks and the coffee extract.
Beat the 3 egg whites and add the sugar right before they become stiff, beating faster after that.
Mix 2 tablespoons of the stiff egg whites with the chocolate cream, blending well using a whisk, then add the remaining egg whites mixing with a wooden spatula, stirring delicately.
To serve: fill each bowl or glass halfway with your chocolate Mousse and sprinkle some chocolate chips on it. Use a decorating bag to fill in the remaining space with more chocolate mousse.
Leave the bowls in the refrigerator for 12 hours.
If you do not wish to use individual glasses or bowls you may also serve this chocolate mousse in an oval dish: placing the mousse in the middle, 4 crisscrossed finger-shaped biscuits on the right and a small glass of Maury or old Rivesaltes wine on the left.
This is pure happiness...
credits photo : Patrick.Asfaux© A.F.Touch