Fish Soup Royale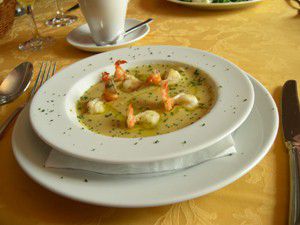 5.0

/

5

(

8

votes)
Prepare time :
Cooking time :
Total time :
Fish Soup Royale serve 6
3 kg of fish out of : a big gurnard, 1 rascasse, 1 Saint Pierre, 2 vives (four mediteranean fishes), 500 g of burbot, 500g of hake or conger, 1kg of mussels and 6 crawfish.

For the soup : 2 heads of hake cut in the middle, 2 big onions, 4 cloves of Garlic, 2 leeks, 2 spoon of tomato puree, white wine, 1 "bouquet garni" (thyme, bay-tree, parsley), hot pepper, salt, olive oil.

To link : 4 egg yolks and five tablespoons of fresh cream.
Progression
Scale and empty the fishes. Wash them with cold water and wipe them. Slice hake and gurnard. Take the nets of other fish. Keep it.
In a large stewpan, pour 3 tablespoons of olive oil. Incorporate the onions thinly sliced, finely chopped garlic, leeks cut in small pieces. Cook vegetables half an hour while often stirring. Add "bouquet garni". Stir constantly until the edges become white. Wet with the white wine and 1 liter of water. Incorporate tomato, salt and spice.Let bubble to boiling: leave cooking for 1 hour covered. Remove scum progressively.
Wash, scrape and drain the mussels. In a casserole placed on hot fire, throw them in and stir until they open. Remove them and keep their juice. Pass the "fumet" thru the sieve. Take the remains (except the heads), crush them with the rammer and pass the whole thru the moulinette. Pour in with the mussels juice. Let it bubble on soft fire.
credits photo : © Kyryl Rudenko - PHOTOLIA