Leeks Royale
From the one star french chef Patrick Asfaux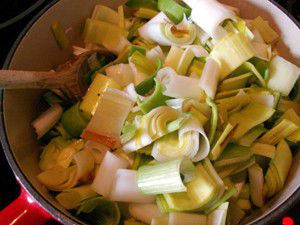 Prepare time :
Cooking time :
Total time :
Leeks Royale for 6 guests
1 kg of leeks (the white part only)

3 eggs

2 dl of cream

For the sauce :

2 dl of double cream

Juice of 1/2 a lemon

Salt and freshly ground pepper
Progression
Wash the leeks well. Slice them into large 3 cm circles.
Melt 60 gr of butter in a saucepan, add the leeks, season with salt and pepper and add some grated nutmeg. Sweat this mixture gently for 20 min ans then set aside.
Align 6 small porcelain molds (such as those used when making "crème renversée").
Mix eggs, double cream and some salt and pepper in a large mixing bowl.
Fill the molds halfway with this mixture. Add the leeks and then pour the remaining egg mixture over them.
COOK IN THE OVEN, IN A BAIN MARIE FOR 50 MIN AT A TEMPERATURE OF 200°F (90°C or th 4).