Char-grilled Sirloin Steak
From the one star french chef Patrick Asfaux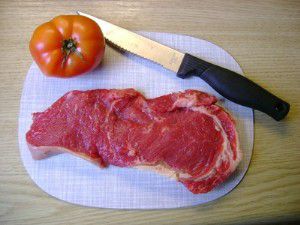 Prepare time :
Cooking time :
Total time :
Repos : 1 heures
Take your sirloin steaks out of the fridge about 1 hour before cooking them. Then, using a brush, lightly coat them with a little bit of vegetable oil. Sprinkle your red hot grill with a pinch of finely chopped thyme and place your steaks slighly inclined to the right to cook for a couple of minutes. Then, rotate them by 45 degrees to the left and let them cook for another 2 minutes. Them turn them onto the other side and proceed as previously to obtain a nice, regular "criss-crossed" effect
Progression
A couple of tips:
- Only season your steaks with salt, towards the end of the cooking process to avoid the loss of blood and cooking juices. I personaly, prefer serving some "fleur de sel" to the side along with some cracked pepper.
- For me the "must" is to grill a t-bone steak over a bed of char made of vine shoots (the Bordelaise way).
- When it comes to choose a sauce to serve with grilled sirloin steaks, I would tend to prefer a Bearnaise sauce.
credits photo : © jharela