Tian of Puy lentils and Foie Gras
From the one star french chef Patrick Asfaux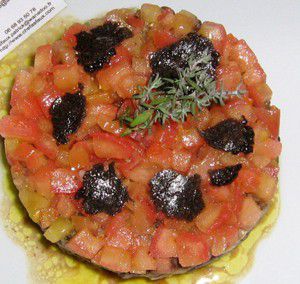 4.9

/

5

(

14

votes)
Prepare time :
Cooking time :
Total time :
Tian of Puy Lentils and Foie Gras for 6 people :
400g Puy lentils

1 litre of chicken stock

1 onion, peeled and pricked with 2 cloves

1 carrot, peeled and very finely chopped

3 tomatoes, peeled, seeded and finely chopped

the juice of 1/2 lemon

150g of cooked duck foie gras

1 black truffle (40g), well brushed

some olive oil and blsamic vinegar

salt and freshly ground pepper
Progression
Directions:
1) Cook the lentils in a large pot with the chicken stock the onion and the carrots. Allow to simmer for 15-20 minutes. Skim from time to time. When done, strain them.
2) Meanwhile, season well the dices of tomatoes with salt and pepper as well as the lemon juice. Set aside in the fridge.
3) Cut the foie gras into dices about 1cm thick. Then, very finely slice the truffle*.
4) In a bowl season the lentils with olive oil, balsamic vinegar, salt and pepper to taste.

Arrangement:

In each plattes place a 10 cm cutter. Stack some lentils, half way up. Add few dices of foie gras. Add more lentils, top them with some of the tomato mixture and few slices of truffle.
At the last minute, carefully remove the cutters and drizzle the tians with a little bit of olive oil and sprinkle them with some freshly ground pepper.

All what's left to do, it is to enjoy!


(*) Black truffles is a quite expensive and difficult product to find so you can use some very fine slices of black radish, instead.