A nice week-end in Lyon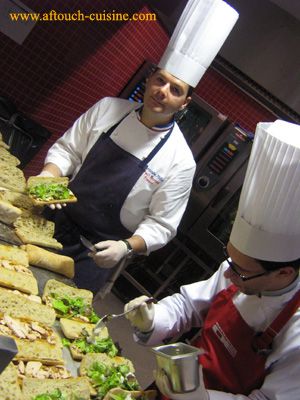 As we do from time to time during the year, direction Lyon to pay a visit to some beloved friends.
Her,'Speedy' Brigitte, animal painter during her vacant hours, and him, François, more calm, entrepreneur and master builder of numerous restaurant kitchens in Lyon and even Paris.
On this saturday morning (8:00 AM), we are on the train platform of the Lyon railway station, in Paris, and we know that we will need only 2 hours (note of the translator : distance is 450 kilometers - 280 miles) to be in Lyon-la-Part-Dieu station.
We nearly have enough time to benefit from the lanscape and we are in Lyon.
At the arrival, our friends, always so happy to welcome us announce the forecasted celebrations :
Firstly, visit to a new quite revolutionary concept of the still young Paul Bocuse. The device itself, written down on the invitation card ("When gastronomy becomes fast") invites you to a smile...
Once again, Mr Paul, well helped by his excellent deputy, Jean Fleury, will, after the creation, 15 years ago, of his pub concept, prove to the catering planet that innovation in the field of the new ways to feed people for a cheap price without sticking to the US routes do exist.
10:30 AM : we then arrive in Docks Street to a very large and very clear room dedicated to catering and called "OuestExpress", bordering the huge Pathé movie network.
A futurist decoration opening on large brigh spaces.
I come closer to young people preparing the meals : "may I take photographs ?"
"yes, of course", answers a person coming out of an office : I guess he is the manager of this place. After having exchanged a few polite words in this out-of-norm place, I asked him if I could visit the kitchens. He accepts and introduces me.
There, in the middle of the kitchens of a dazzling cleanliness, 4 cooks, with chef hats and plastic gloves are preparing superb sandwiches with as much care as if they were preparing Michelin star meals.
And in front of my somewhat dumbstuck eyes, I discover the manager : he wears the famous blue-white-red collar, distinctive sign of the most desired reward for a cook: the one of "the best craftmen in France" (note of the translator : "Meilleur Ouvrier de France" - MOF in short - in French).
Of course, noticing my amazement, he explained to me with few words, that his role was not only to explain by words but also by gextures, the intended and studied culinary directions, in order to give to this concept the highest success probability as possible.
The idea itself of appointing a MOF in a fast food unit can only comes out of the head of a very young man.
Here, this so young man is over '80 spring' old actually : and what about the prices will you ask ?
9.90 euros for the "Pasta" meal (1 pasta of the day + 1 dessert to be chosen in the list + 1 beverage to be chosen in the list as well.
12.90 euros for the "Stewed" meal (same but 1 stewed elaborated course instead of the pasta).
You can also choose sandwiches in a long list for unbeatable quality/price ratios.
Well, you have understood that, once again, many lines will be written about our dear Paul Bocuse...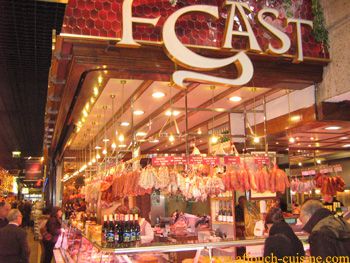 Now, direction the Part-Dieu market, recently renamed "Paul Bocuse (again !!!) Lyon market".
A quick stop ; it is 11:00 AM so it is the right time for tasting 6 small oysters with a small glass of cool Macon Viré wine (note of the translator : white dry wine of the Macon region, close to Lyon in the way to Burgundy) in a small typical Lyon pub ("bouchon" in 'Lyon''s French) into the market.
Because I am committed to cook for lunch, I must, as usual, look around into the market for the choice of the meals.
A quick stop at "Colette Sibilia & Daughters".
This mythical delicatessen shop is known, like its neighbour Gast all around the food planet for its pistachio or black truffle 'cervelas' (note of the translator : big saussages from Lyon to be cooked into boiling water), its dry saussages etc ... Both are the saussage Lyon temples !
I leave the shop with 2 pistachio cervelas in my hands to carry to Paris and I walk along the other inescapable frontage shops wearing as much famous names as the first ones that wonder our gastronomic imagination : Giraudet for his "quenelles", La Mère Richard for her Saint Marcellin (note of the translator : they are small round and quite flat cheeses), Bobosse for his "andouillettes", Coudert for his meatpies, Maurice Trolliet, "meilleur ouvrier de France - MOF" - a butcher famous for, among other meats, his beef meat from Salers (note of the translator : Salers is a middle ages very nice small town of Auvergne, center of France, famous for its regional beef breed) and what to say about the stands of vegetables at the end of this january, with the first vegetable arrivals from the south of France.
The whole stand had greenish colours that gave me the idea to prepare a fully green colour course. I then asked to the maiden to give me a few bags and I then started to dig up ...
A few mangetout peas, a few asparagus heads, a few nice French green beans, one small head of young Swiss chard, 2 baby zucchinis and since I had inserted a small foie gras terrine in my luggage, I thought that a small mixed green salad could make it.
Now, go into the nice Italian shop where we bought 1 pound of gnocchis and a piece of parmigiano cheese. For the dessert, I will make small tangerines preserved into sugar ; by chance, I could find some minuscule ones from Corsica and I stopped shopping with a few fresh wood hedgehog mushrooms I could prepare with something anyway.
Walking along the a marvelous poulterer shop, an idea for the main course of the sunday lunch came into my head : on a dish, I discovered, for sale, gorgeous Bresse chicken blond livers (note of the translator : Bresse is a region, between Lyon and the Swiss border, famous for the high quality of a specific poultry breed) so that I could make nice "cakes" like the ones the family Blanc make in Thoissey or in Vonnas (note of the translator : Georges Blanc is a famous 3-star Michelin cook, settled in Vonnas and his father and the former generations were and still are for some of them, famous cooks settled in Thoissey, both towns in the Bresse region).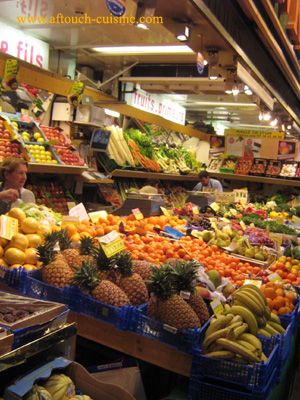 Just arrived in their nice flat on the hights of Tassin-la-Demi-Lune, I step in the kitchen, wear an apron on and go to work.
My friend François will act, as usual as my cook work hand. A large casserole pan full of salted boiling water and let's go : washing the vegetables, then beveling them, pouring into water during 3 minutes into this salted boiling water and then quickly cooling them down and draining.
I keep this water now became a vegetable stock that will be used for poaching the gnocchis.
In a blender : some of this stock, some cream, a few leaves of the bleached Swiss chard, 2 degermed and bleached garlic cloves, black pepper and table salt. Plus a little olive oil, 3 garlic leaves : my sauce is ready ; I keep it warm in a bain-marie and I jump to something else.
In a saucepan, some caster sugar and water to make a sirup for preserving the tangerines during 1 hour at low boiling point, covered with a lid.
Beautiful service dishes with a slice of foie gras and a little seasoned mixed green salad.
Then the gnocchis, poached in my vegetable stock and the green vegetables, slighted warmed and mixed with the sauce and seasoned with a drop of olive oil and the gnocchi put all around. Result actually is a pretty well greenish dish, full of flavour.
A small piece of Mont d'Or (note of the translator : this is a winter creamy and tasty cheese, from the Jura mountains) ...
7:30 PM, departure for the 'Brasserie de l'Est', one of the four belonging to the Bocuse empire and settled in the very beautiful Brotteaux railway station.
A huge central kitchen where wellgroomed cooks work in front of the customers, mostly female waiters, fast and efficient as it has to be when you need to serve 200 customers.
The small train upwards making loops around the room gives a really special style to this nice place.
What to say about the food that it was a pleasant meal, not more !
Going back to the appartment, with a nice view on floodlights on monuments then going to bed.
Wake up at 8:30 AM after a serious breakfast and let's go for cooking !
The blond Bresse chicken livers marinated into milk are deveined, seasoned, quickly roasted with thinly chopped shallots in butter, then put aside into a dish and blended with eggs and cream, then sieved and cooked at 284°F during 1 hour in small round moulds.
And as a light starter, what has been left from the foie gras, mixed with the remaining vegetables and seasoned with Sheery vinegar and olive oil.
Then, the blond Bresse chicken liver cakes, served demoulded and topped with panned wood hedgehog mushrooms and surrounded by little fresh slightly bitter tomatoe purée.
Finally, a small piece of cheese and, as a dessert, a small disc of génoise biscuit dampened with orange and covered with a little black chocolate, the preserved tangerine on top and some creamy caramel sauce around.
After many discussions mainly about gastronomy, we had to come back to our Parisian land.
The TGV (note of the translator : Train à Grande Vitesse - very fast train), fully booked as usual and happy with our 2 day immersion into the Lyon atmosphere we like so much.
For the ending, these are a few gastronomic addresses of the "Lyon-paul Bocuse Market" :
The famous 'quenelles' from GIRAUDET
Halles de Lyon
69003 Lyon
+33 (0) 4 78 62 34 05
The not less famous Saint-Marcellin (cheese) from Renée Richard
Halles de Lyon
69003 Lyon
+33 (0) 4 78 62 30 78
The emblematic 'Bobosse andouillettes'
Halles de Lyon
69003Lyon
+33 (0) 4 78 62 66 10
And of course the word famous pistachio and black truffle 'Cervelas' from Colette Sibilia
Halles de Lyon
69003 Lyon
+33 (0)4 78 62 36 28
www.saucissonlyonnais.com
And finally, to discover this new and so original concept from Mr Paul go to and try the OUESTEXPRESS
41 rue de docks
69009 Lyon
+33 (0)4 72 17 95 95
Mr Tony Richard, manager
---