Vieux-Lille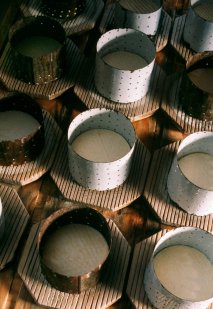 The Vieux-Lille cheese or Gray of Lille is a cheese quite unknown which deserves that one stops there. To reserve to the fans of cheeses with honest odor not to say strong, the Vieux-Lille cheese is also called Puant Macéré or strong Fromage of Béthune. In 1960, Nikita Kroutchtev, at the time Master of the Kremlin, discovered this cheese at the time of its arrival in Lille. He appreciated it at such point that it was made some deliver in the USSR. It has profited for a few years, of a classification in Regional Label.
The Vieux-Lille cheese is in fact a paste of Maroilles cheese. Salted twice, without crust, of grey color to slightly ammoniacal odor, its taste more marked, is more salted and a little pricking. Its paste is flexible and without hole. The refining of the Gray of Lille, known formerly, under the name of "gray Maroilles cheese", is longer than the one of its cousin: it lasts 5 or 6 months.
credits photo : Stock Food
Vous êtes producteur, vous pouvez facilement et gratuitement ajouter vos coordonnées ici et ainsi faire connaitre votre production à tous nos visiteurs.


---