Violet Mustard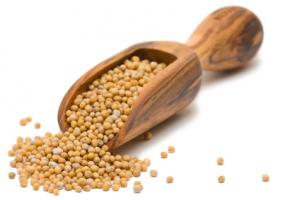 Violet Mustard is a very old Mustard known since the XIIIth century. It owes its letters of nobility in the XIVth century, with the intervention of the Pope Clement VI "the Splendid one". Born in Corrèze and nostalgic of the mets which were prepared to him in this area, he required of the Limousin Jaubertie to manufacture this delicious speciality. Very popular at the "Belle-Epoque", this Mustard fell slowly into the lapse of memory until the beginning the XXth century.
Given to the style of the day in the Eighties, Violet Mustard of Brive, soft and spiced belongs to those spices which accompany many mets marvelously. The specificity of this Mustard is related to the scientists mixtures of seeds of Mustard and must of black grapes combined with wine vinegar and with various spices. To taste without moderation with black roll, small salted or a cold meat, Violet Mustard of Brive will also enable you to vary making of your vinaigrettes in happy manner.
credits photo : © Shawn Hempel - Fotolia.com
Vous êtes producteur, vous pouvez facilement et gratuitement ajouter vos coordonnées ici et ainsi faire connaitre votre production à tous nos visiteurs.


---
Limousin
---