French make best pizzas in the world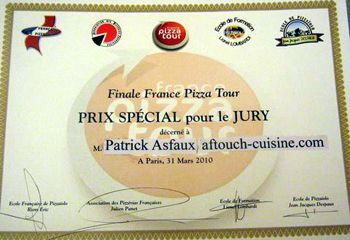 On March 31st this year took place the final of the " France Pizza " tour aiming at rewarding first the best pizza in France among all candidates already selected in all regions of France.
The winner was Chef Rabah Zaoui, cooking in the beautiful city of. He won thanks to pizza topped with smoked and paned duck foie gras slice.
Then came the word final. Each country team was composed of 3 cooks.
Chef Patrick had been invited by the organizing managers to be part of the jury mainly in order to judge the gastronomic quality of the ingredients used for the pizzas.
The French team, conducted by « Master » Lionel Lombardi (from Saint Priest, in Lyon area) won the trophy before Italy (second) and the USA (third).
Even if this can be surprising for some people, one has to know that France is the second pizza eating country in the world after the USA but before Italy that invented pizza !
This competing examination gave birth to numerous reports and comments in the world and we will not hide our pride and pleasure by showing you this short video of the Chinese broadcasting television in which you will see and hear chef Rabah Zaoui (en French) and also a short interview of chef Patrick Asfaux who, as you know, share with us (we are very proud of it) on Aftouch-cuisine his passion and knowledge of culinary stuff.
To see the video click here :
VIDEO
---