Scallops and Artichokes Cream Soup
From the one star french chef Patrick Asfaux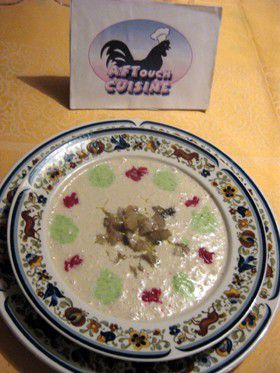 5.0

/

5

(

9

votes)
Prepare time :
Cooking time :
Total time :
Scallops and artichokes soup for 6 people :
300g king scallops

350g artichokes

200g of button mushrooms

1 finely chopped shallot

olive oil, butter

6 dl chicken stock

4 dl double cream

salt and pepper

few leaves of flat parsley
Progression
Description:
1) Heat up some butter in a saucepan, add the shallot, allow to cook for a couple of minutes. Add 150g of finely sliced mushrooms, 250g of diced artichokes and 200g of scallops. Season well, cover allow to sweat off for 10 minutes.
2) Then, add the chicken stock and simmer for 25 minutes.
3) Meanwhile, heat up 2 tablespoons of olive oil and panfry 100g of finely chopped artichokes for a couple of minutes. Then add 50g of finely chopped mushrooms cook for another 2 minutes and finally, add the finely chopped scallops.Season well and allow to cook for a minute or so.
4) Blanch the parsley and blitz it with a couple of tablespoons of cream. Season and set aside.
5) Blitz your soup and pass it through a fine sieve. Allow to completely cool down.
When, your soup is cold, blitz it a second time while gradually pouring the cream in. Check the seasoning and set aside in the fridge.
Arrangements:
Pour some of the chilled soup into 6 plattes. In the middle of it put a bit of the scallops, mushroom and artichokes mixture. Finally, using the tip of an office knife, put drops of parsley cream all around the platte.
A delicious starter that can be made 24h in advance.
credits photo : asfaux patrick © A.F.Touch-cuisine