Cream of Scallops and Mushroom Soup
From the one star french chef Patrick Asfaux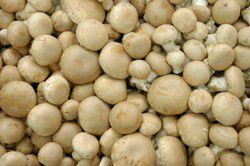 Prepare time :
Cooking time :
Total time :
Cream of scallops and mushroom soup recipe for 6 people :
1kg button mushrooms

12 king scallops

5 dl chicken stock

5 dl double cream

2 shallots
Progression
Description
1) Wash and peel the mushrooms. Keep 6 nice one and finely chop the rest.
2) Heat up 50g of butter into a pot and sweat off the finely chopped shallots for a couple of minutes. Add the mushrooms, cover and gently cook for 3 minutes. Then, add the cream and allow to reduce by half. Add the chicken stock and reduce the lot by a third.
3) Meanwhile, cut your scallops into dices of 2cm a side. Pan fry them with a nob of butter and a tsp of olive oil on a high heat for a minutes. When done, strain the scallops (keep the cooking juice) and set them aside.
4) Blitz your mushroom cream in which you added the scallops cooking juices. Check the seasoning and rectify if needed.
Place a spoon of scallops in 6 soup bowls and pour some of the hot mushroom cream over them.
The different textures and flavours make of the recipe a fine and delicious starter.
ps : You can use this recipe to make an exquisite appetiser served in shot glasses with some toasted baguette slices.
credits photo : © photographe94 - FOTOLIA