SIRHA 2011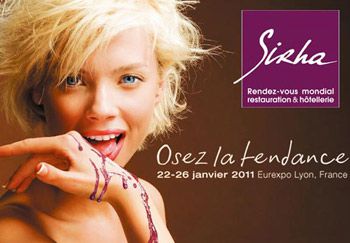 On January 22nd untill January 26th, the SIRHA 2011 (word hotel business and catering exhibition) will take place at the Eurexpo exhibition fair centre of Lyon, in France.
A few numbers :
. 141,380 visitors in 2009
. 13 international exhibition halls
. the meeting point of the deciders in the catering business in all categories : commercial, collective, snacking : paurchasers/buyers, advisors, importers, all types of fooding professionals, R&D, etc...
. over 10,000 chefs from 136 countries
SIRHA also organises many prestigeous competition :
-> European Catering Cup : delicatessen makers and caterers contest : saturday 22nd january 2011
-> Louis Lesaffre Cup : saturday 22nd, sunday 23rd and monday 24th january 2011
-> Pastry Word Cup : sunday 23rd and monday 24th january 2011
-> and over all, the " Bocuse d'Or " : tuesday 25th and wednesday 26th january 2011
So, if you plan to be in the Lyon area at that time of the year or if you are ready to take the road, please write those days onto you agenda.
For the other, Chef Patrick will be a special journalist on site for Aftouch : if you see him there, dare talking to him : he will give you valuable advice and will propore a tour to you to discover the best available in the world of gastronomy.
---