Cassoulet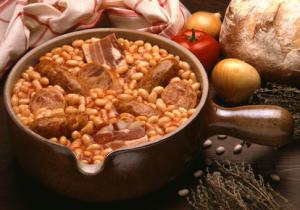 The Cassoulet is a typical French dish. Its history would go up with the Hundred Year Lasting war, in the XIVth century and it would have been born at the time of the siege of the town of Castelnauday by the English. To give strenght before the battle, the inhabitants of the capital of the Lauragais region would have prepared a gigantic stew made up of all their stock of beans and meats of all kinds (geese, pigs...). This meal worthy of Pantagruel would have made it possible to the French to gain the victory.
The Cassoulet of Castelnaudary is composed of haricot beans, sausage of Toulouse, a piece of goose or duck confit in its grease, a piece of pig, pork rinds and of duck or goose grease. It draws its name from the "cassole", a hollow dish out of terracotta which, with time, changed to give its name to the cassoulet. Delicious heated, it became the traditional dish of south-west before gaining the tables of whole France.

The true Cassoulet recipe
credits photo : © Marie Capitain - Fotolia.com
Vous êtes producteur, vous pouvez facilement et gratuitement ajouter vos coordonnées ici et ainsi faire connaitre votre production à tous nos visiteurs.


---