Watermelon jam
From the one star french chef Patrick Asfaux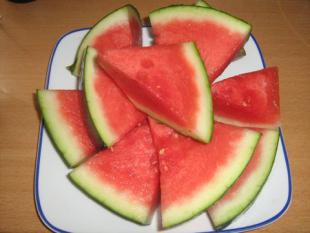 5.0

/

5

(

7

votes)
Prepare time :
Cooking time :
Total time :
This is an adapted recipe from my friend Maloub who worked for me during numerous years.

For 6-8 pots
1 nice watermelon (9 lb approx.)

5 grams (1/6 oz) table salt

3 kilograms (6.6 lb) caster sugar

3 nice untreated lemons (including 1 you have peeled : keep the zests of it)

1.5 liter water
Progression
1/Cut the watermelon into thick slices and using a knife, take away the seeds (you can keep the seeds to prepare a jelly)
2/Pour the watermelon slices into a pan, cover just at level with cold water, add the salt, heat until boiling then carefully drain the fruit and put onto a grid
3/Prepare the sugar sirup with the sugar and the 1.5 liter water and the lemon zest you have thinly sliced, then add the watermelon slices and the juice of the 3 lemons (without the seeds)
4/let it boil during 1.5 hour skimming from time to time
Fill dry clean pots with the jam, close them and turn them upside down untill full colling down. This is delicious !