Chestnut Pure
From the one star french chef Patrick Asfaux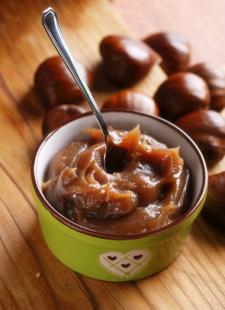 Prepare time :
Cooking time :
Total time :
hestnut pure

50 chestnuts

125g caster sugar

125g soft butter

1 vanilla pod, halved (or a packet of vanilla sugar)
Progression
1) Make a cut into the skin of your chestnuts (all around them). Then place them in a pot with 3 litres of cold water and the vanilla pod (or the vanilla sugar). Cook until the chestnuts are soft.
2) Strain them and peel them.
3) Place your chestnuts in a bowl and work them with the sugar and the butter until the mixture becomes a compact paste.
4) Then, pass this mixture through a vegetable mill using a fine grid. Finally, whisk your chestnut pure to air it a little bit. Keep in the fridge until serving.
Serve in a bowl with a little bit of creme fraiche on the side and a couple of biscuits. You could also, put your chestnut pure in few individual moulds, leave them in the fridge to set for 24h and just before serving, take them mould on a platte and coat them with a bit of warm chocolate sauce.
credits photo : casa © al62