Toffees from Isigny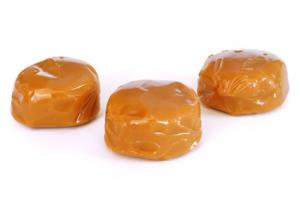 Benefiting from a privileged geographic position, Isigny is situated for a long time among the most renowned Norman soils.
From 18 ème century, the dairy products of the " town of Isigny " enjoy, indeed, a world fame.
It is in this beneficial environment that are born "Caramels d'Isigny" (toffies): in 1932, establishment Galliot finalizes the first recipe of toffies in the milk and in the cream of Isigny called "Isicrem", competed from 1939 by "Dupont-crème" of the cookie factory Dupont d'Isigny.
The care brought to the manufacturing of products, the quality of raw materials and the know-how give to toffies a unique flavour and an unforgettable taste.
The various ingredients are introduced into a copper cuiseur, brewed, and cooked. They diffuse then a delicious smell … The materials(subjects) noble as the butter or the cream A.O.C. (Label guaranteeing the origin) are incorporated only at the end of cooking to protect all their gustative quality from it.
credits photo : © Mark Herreid - Fotolia.com
Vous êtes producteur, vous pouvez facilement et gratuitement ajouter vos coordonnées ici et ainsi faire connaitre votre production à tous nos visiteurs.


---