Camembert from Normandy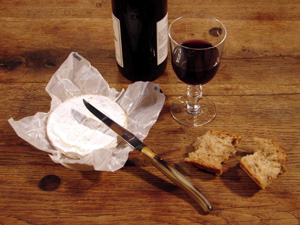 The Camembert cheese is without without any doubt the most known cheese in France as well as abroad. The history retains the name of Marie Harel, worthy farm Norman who, in 1791 during the period called Terror, put a last hand at a "revolutionary" cheese, baptized name of its village of origin: Camembert cheese. However, this cheese seems to appear at least since 1680. The success of Camembert cheese in France as abroad pushes, in 1909, the General meeting Constitutive of the Trade union of the Manufacturers of Genuine Camembert cheese of Normandy to protect invaluable cheese by fixing during a speech undoubtedly memorable the rules which govern the manufacture of Camembert cheese: "Is Norman Camembert cheese, a soft cheese, with spontaneous draining, neither cooked, neither pressed, nor mixed, with curd not divided, slightly salted, with surface moulds, of round form, a weight of 350g, a maximum diameter from 10 to 11 cm, containing at least 40g of fat content for 100g, made with pure milk of Normandy". The "Camembert cheese of Normandie" obtained the AOC (Controlled Label of origin) in 1983.
The ideal is to preserve it in cellar, but if you preserve it at the refrigerator, leave it at the beginning of meal and serve it at ambient temperature. Accompany it with a wine with bouquet, fruity, not too young, like Burgundy, Volnay, Savigny-the-Beaune, or Bordeaux Saint-Emilion or Côte de Bourg. Most Norman will not hesitate to taste it with a raw cider. The Camembert cheese of Normandy will make you discover its delicate odor of soil, its aromatic bouquet, its honest and recorded savour sometimes slightly fruity.
credits photo : © Esther Ruzé - FOTOLIA
Vous êtes producteur, vous pouvez facilement et gratuitement ajouter vos coordonnées ici et ainsi faire connaitre votre production à tous nos visiteurs.


---