Pont-l'Eveque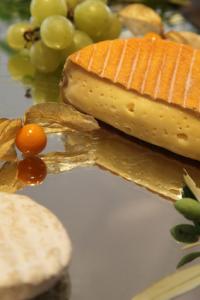 Created in the XIIth century by the cistercians monks installed in the
west of Caen, the Pont-l'Evêque is celebrated for the first time in
1622, by Helie le Cordier, Norman writer, in a poem from which this
sentence comes: "Everyone also likes it because it is made with art as
well young person as old man, it is only cream-coloured". At the XVIIIth
century, the notoriety of the Pont-l'Eveque exceeds our borders. Since
1722, Masseville underlines the fact that the cheeses coming from the
area of Pont-l'Evêque "are strongly estimate and transport into various
country". It is at that time that the Pont-l'Evêque becomes square to be
different from Livarot, its neighbor.
Classified AOC since 1972, the Pont-l'Eveque is manufactured starting
from cow's milk collected exclusively in Normandy and very close
Mayenne. Washed crust soft cheese of square form, the Pont-l'Evêque must
contain at least 45% fat. Its paste, consistent and slightly salted,
reveals subtle and refined tastes. Cheese appreciated at the end of the
meal accompanied by a vigorous red wine like Bouzy, Volnay, Bourgueil or
Pomerol, it can also be tasted with a quite fresh raw cider of Normandy.

credits photo : © ChantalS - Fotolia.com
Vous êtes producteur, vous pouvez facilement et gratuitement ajouter vos coordonnées ici et ainsi faire connaitre votre production à tous nos visiteurs.


---