Livarot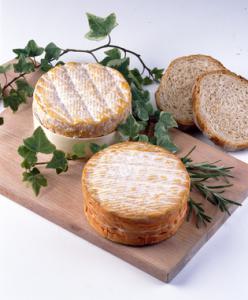 Livarot, cheese AOC since 1972, appears on the tables of Normandy for the first time at the XVIIth century. It owes its name from the small town of Livarot in the Pays d'Auge, where it is manufactured, between two departments, Orne and Calvados. Its nickname of Colonel comes from the 5 strips which surround it, strips which were formerly used to avoid its depression during refining.
Soft cheese, cow's milk and crust known as washed, its marked savour and its inimitable taste make of it a required host of the plates of the experts. Ideally served with Bordeaux or why not a cider of Normandy, you can find it in tasty receipts such the Crusty ones of Livarot, accompanied by apples and ham, the muslin of Livarot or the tart colonel... To be tested urgently !
credits photo : © FOOD-pictures - Fotolia.com
Vous êtes producteur, vous pouvez facilement et gratuitement ajouter vos coordonnées ici et ainsi faire connaitre votre production à tous nos visiteurs.


---