A few days in Burgundy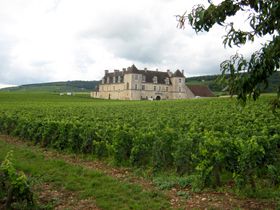 As usual during this calamitous August, we leave Paris under the rain to Val de Mercy. I know pretty well this region because my brother has a country house in Irancy, a nice village (where Soufflot was born) in a famous wine producing area.
In Val de Mercy,Jacques Delfontaine is in charge of a charming inn he owns with his loved wife, after having spent some time working for one of the upper class French families.
They both obviously looked happy to welcome us with a small glass of Chablis (note of the translator : the geniune Chablis !) wine on the bar and a crunchy langoustine appetizer and then around a table for a meal I had ordered to be light because we had planned to take the road after lunch.
A mixed salad with a langoustine biscuit, then a nice beef thick rump steak with a few chanterelles and a 'gratin dauphinois'. For my wife, a brand new dessert created and made by the host : a MARZINSKA, made of meringue discs between sorbets and fresh fruit, then an excellent coffea, the goddbye kisses and many thanks to the innkeeper.
Direction of Ladoix-Serrigny in order to meet with one of my wine producer friends I had not seen for a long time :Claude Chevalier.
He was waiting for us in a great shape and during more than one hour, he explained to us the benefits of young wine producers new thinking about the way to treat the vine stocks ("green" harvesting in order to get rid of the grape surplus on the stocks)and much more selections than before, hence a great step to quality.
Together with a few other connoisseurs, came the testing of its wine production : Ladoix, then Corton and the exceptional Corton-Charlemagne, one of the greatest French white wines, explaining to us in depth the new practise of the "bio-dynamic" farming as a substitute to nearly all the chemical treatments by naturel fertilizers.
We had booked a room in the nearest hotel on the other side of the road (in this region, no way to take your car after a wine testing).
Now, 150 meter far from the cellar of my friend Chevalier, we go to a restaurant we used to know under the name "Des Coquines" now renamed La Buissonniére.
How surprised we were learning that this restaurant has been taken over by one of my friend Chevalier's daughters and his husband. She explained to us that, following an introductory cooking training course, it was revealed to her what her desire was and to which extent she had been right. This self-trained chef prepared to us a meal worthy of a Michelin star restaurant !
As an appetizer : a nice "chorizo" cream, enhanced by a few snipped fresh mint leaves.
As a starter : frog legs in a sweet garlic cream.
As a main course : a "meli melo" (blending) of scallops and calf sweetbread and a small duck kebab coated with gingerbread crumbs and served with a cep risotto for my wife.
A charming dessert made of lime icecream with roasted half pruns and honey.
Well, you have already understood that this meal, splashed with the talent of this young cook, and like the wine list, is passed through his father's hands... Add to it a beautiful tableware completed with a charming place and prices outside the surrounding madness of the time. It is really the ideal journey break place.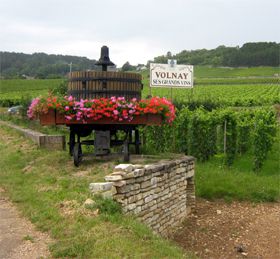 After a good night, we leave, still under a thin rain, to the most prestigious 'appellations' of Burgundy : Corton, Aloxe Corton, Chambolle-Musigny, Gevrey-Chambertin, Clos Vougeot. We notice that everywhere we go, the region has kept its rural nature despite all these legendary vineyards known all over the world ; when a foreign visitor arrives in front of the Romanée-Conti Domain, he must rub his eyes in front of the absence of any advertising of any kind for those wines that are among the best ones in the world. 'Visit' of the great white wines : Meursault, Corton-Charlemagne... Only great 'appellation' wines. We take a few photographs then we leave for Dijon to have lunch in the second restaurant of Jean-Pierre Billoux (Michelin star restaurant "Le Pré aux Clercs") called "Le Bistrot des Halles", a lovely place near the hall built by Gustave Eiffel.
The restaurant was crowded and we had an, let's say, average quality lunch : the crust pie ("pâté en croute") and the sprinkled with parsley ham ("jambon persillé"), despite the fact that they are local specialties, were not really well prepared, the following guinea fowl roasted on a skewer was better prepared and we ended with a small cottage cheed with cream ; we, however, have congratulated the young waiter who, despite the fact that she was overloaded with work, always remained smilling and charming with customers.
A last comment : why, in the regional special of the day list (then including beef 'bourguignon', roasted guinea fowl on a skewer as as desserts cottage cheed with cream and fresh fruit clafoutis)do we find strange dishes such as a sea food pasta salad or another fish starter where we are in the right center of Burgundy ?
We now leave for Autun ; it is still raining but we go there in order to visit this pretty little known town, full of galleries and when all streets seem to converge to Art with a capital A. When one step into this magnificient cathedral, despite the canvas sheets stretched inside in order to avoid the falling of stones, one can only admire the outstanding stained glass windows and the phenomenal dimensions of this church.
Furthermore, we were lucky that day because an English Quatuor was practising a Mozart opera to be plaid that following evening. We were really astonished by the sound surrounding effect of this place which seemed to be "inhabited".
It was now time to look for a place to make a stop and we found, in Le Creusot, an hotel ("La petite Verrerie")offering very average quality room and meals for a 3-star ranking hotel. So, just forget the address.
Then we left for the "Clunisiennes" (i.e. the area around Cluny)places in this region all surrounded by a Christendom atmosphere. Direction Paray-le-Monial where stands an ancient replica of the mythical Cluny Abbey.
The city was totally crowded and we could not park the car : we were told that that day was a annual meeting day and that thousands of pilgrims had invaded the city during the last 3 days.
Anyway, we visited this outstanding basilica ,and a few nice chapels spread all around.
Because an hotel keeper subscribing to our site were settled in this town, we decided to pay him a visit... we were turning up at just the wrong moment and we were received by by an unfriendy person ; when we asked for the opportunity to say hello to the chef, we got this answer that he had no spare time for those "Internet stuff" (it was only 10:15 AM, he had "a lot to do" and we were just kicked away). This shows that foreigners are often right when they say that a welcome is not part of our national tourism values.
It is still raining ... we leave for Charolles, the capital of this worldwide famous Charollais beef catttle, a few photographs and suddently : a few kilometers from there, like in movie sequences, we shift from breeding landscapes to the Côte Chalonnaise vineyards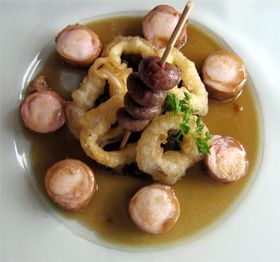 It was then the perfect timing to look for a small restaurant for lunch. We arrived in Mercurey and there, on top of a nice hill, we discovered a small well named ("Restaurant Le Charme") restaurant that looked friendly. As soon as we entered into the restaurant, we saw that it was well maintained and kept, and was offering a wonderfull view on the valley.
This is when this modest stop became a sort of a gastronomic miracle, from the appetizers to the main courses, all in the aura of a future Michelin star restaurant.
A big tomatoe stuffed with mushroom duxelles and with snails, young rabbit sirloin and squid deep fried rings served with ratatouille and ending with a lemon crème brûlée served with a lavander ice cream, a warm financier and a vanilla milk shake. Actually, we made the 'meal of the week' and for an unbeatable price !
This young couple is worth the detour because performing so well such a work only the 2 of them is really great ; actually, the chef is still in contact with one of his former bosses, Jacques Lameloise, a Michelin 3 star restaurant settled in Chagny, proof of the quality of his work.
Just a call given to announce our visit to the Bize family at Savigny les Beaune and we arrive, under the rain as usual, to this old friend I had not seen for more than 20 years.
But, by magics after so many years, 5 minutes after our arrival we were remembering so many things just like they had occured yesterday : friendliness is also that.
In the 'interim' period, he married a pretty japanese banking officer who gave him 2 beautiful children and all the family leaves in this large house carefully decored at the "japanese-burgundy" style : large volumes, refines lines, in bried a place where you feel well.
And now we go for an outstanding wine testing. We must say that the Bize estate is THE reference for Savigny les Beaune Premier Cru, admired all over the world.
But the Bize family also owns a small vineyard in the Aloxe-Corton, Corton-Charlemagne and even in the Latricières-Chambertin appellation area.
A simple basic meal in the inn of the corner and then a quiet night in a so pretty bedroom.
Breakfast and farewell because it is now time to come back to Paris, still under the rain...
My favourite addresses in Burgundy, where you can go on my behalf : I believe you will be warmly welcome
The restaurants
Restaurant Le Charme
Chez Corinne et Fabien Benoit
Route d'Autun
71640 Mercurey
phone: +33 (0) 3 85 45 28 49
Mr and Mrs Delfontaine
Auberge du Château
3,rue du Pont
89580 Val-de-Mercy
phone : +33 (0) 3 86 41 60 00
La Buissonniére
Chez Charlotte et Sébastien
2, impasse Villot
cedex 21
21550 Ladoix-Serrigny
phone : +33 (0) 3 80 26 43 58
2 outstanding addresses now, in heaven, at the height of the fame of Burgundy stars :
For my links with them since your young age at the Jean Ferrandi school :
at Nicole and Jacques Lameloise
Restaurant Lameloise
36 Place d'Armes
Chagny en Bourgogne
phone : +33 (0) 3 85 87 65 65
For close old links between our families :
Françoise and Marc Meneau
L'Espérance
St-Père-en-Vezelay
phone : +33 (0) 3 86 33 39 10
Now a few addresses of wine producers of my friends
Claude Chevalier
for its Ladoix, Aloxe-corton, Corton and the unique Corton-Charlemagne
Domaine chevalier
Ladoix-Serrigny(Le Buisson)
phone : +33 (0) 3 80 26 46 30
Mr and Mrs Patrick Bize
For their exceptional Savigny Premier Cru, Aloxe-Corton Le Suchot
and what to say of their Corton-Charlemagne and of the unique Latriciéres-Chambertin
12 Rue Chanoine Donin
21420 Savigny-Les-Beaune
phone : +33 (0) 3 80 21 50 57
For the Irancy wines, do not miss my friend René Charriat for its Irancy, probably one of the best in this appellation area
Those Irancy wines from Benoit Cantin are excellent as well
phone : +33 (0) 3 86 42 21 96
and also those from the friend Melou who still owns a small area of the rare Côte de Palotte
For the Chablis wine and also other regional wines, go and discover the wines of Domaine Verret at St Bris le Vigneux
phone : +33 (0) 3 86 53 31 81
---