Andouille de Guéméné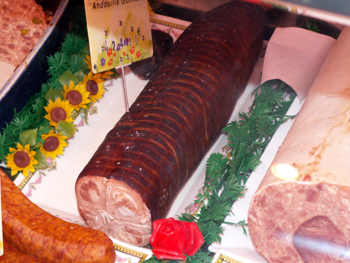 Already at the XVIIIth century, the Breton Andouille knows a sharp success and is part of the Breton gastronomical products. During the inter-war period, it is always appreciated, but from others come to compete with it: the andouille of Carhaix and that of Guémené. The "Andouille de Guémené" appears, with the passing of years, like the worthy heiress of old and rich tradition Breton porkbutcher.
The genuine "Andouille de Guémené" is different from the others by these "chaudins" from pig, or large intestines, which are rolled up the ones on the others. Once prepared, these chaudins are threaded in the "goldbeater's skin" (kind of pocket) of beef. The andouille is put to dry up to 9 months, after being smoked with the wood of oak or beech. The last stage before obtaining an andouille to the single taste is slow cooking in a bubble scented with the hay.
credits photo : © Couet Ivan - A.F.Touch-cuisine
Vous êtes producteur, vous pouvez facilement et gratuitement ajouter vos coordonnées ici et ainsi faire connaitre votre production à tous nos visiteurs.


---