Apt candied fruits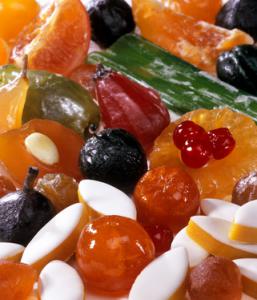 The history of the Apt Candied fruits seems to date back to the time of the Popes in Avignon, since many writings speak about the gifts made by the confectioners of Apt and delivered to several Popes in the neighbourhoods around the XIVth century. In 1752, the city had six pastrycooks and confectioners. 150 years later, in England, the industry of the Apt candied fruits took rise. The English, who are large fans of these delicious candied fruits, made them to great popularity.
The kumquat was regarded as the king of the candied fruits. Today, it is replaced by clementine. Napoleon cherries, apricots, figs, pears bianchetti, plums, and fruits of the surrounding orchards are gathered after maturity. In addition to the products of the area, exotic fruits are also crystallized such as pineapple of Ivory coast, oranges of Sicily, citrons of Crete. In short, a true festival for everyone of the whole world.

credits photo : © photosjcc - Fotolia.com
Vous êtes producteur, vous pouvez facilement et gratuitement ajouter vos coordonnées ici et ainsi faire connaitre votre production à tous nos visiteurs.


---
Provence-Alpes-Côte d'Azur
---