Calisson d'Aix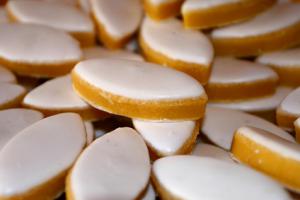 The Calisson d'Aix is "the" confectionery of Provence and Aix-en-Provence draws from it most of its fame. Known as of Antiquity, Italian Calisone was introduced in the Aix area in the neighbourhoods of the XVth century and at the next century, with the introduction of almond in Provence and the development of its trade in Aix, it becomes a confectionery appreciated in all the kingdom and beyond. At the XIXth century the first factories of Calisson were built and during the XXth century Aix-en-Provence will became the world capital of the trade of almond.
This delight which is the Calisson d'Aix is still manufactured today in the respect of traditions and old techniques, through two different stages: preparation of the paste and the raising of the Calissons. The almonds are initially cleaned then crushed with melons crystallized and added with fruit syrup. 40% almond for 60% syrup and fruit is necessary. Once the paste prepared, the Masters confectioners draws up the Calissons and "equio" them with sheets of host covered with royal ice. Taste it, and will fall in love !!!
credits photo : © Marc Lerouge - Fotolia.com
ROY CHOCOLATIER
27, rue de Longchamp 75116 PARIS
ROY, Chocolatier à Paris depuis 1948 et sur Internet depuis 1996, sélectionne auprès de quelques Artisans français de talent, des Chocolats de caractère et des Confiseries traditionnelles.

Nous livrons à Paris et expédions dans le monde entier.

Vous êtes producteur, vous pouvez facilement et gratuitement ajouter vos coordonnées ici et ainsi faire connaitre votre production à tous nos visiteurs.


---
Provence-Alpes-Côte d'Azur
---