Prune from Vitteaux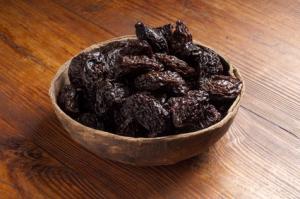 There is a Burgundy product about which one speaks never, but who deserves an urgent discovery, it is the prune from Vitteaux. Resulting from Yellow Plum from Vitteaux which was imported of the East in the Middle Ages by the lords of Vitteaux, these delicious Prune is produced in the area of Auxois according to criteria and a rigour which confine with the excellence, and which at the same time as its scarcity, make a required product of the fans of it.
Of Brown color drawing on light, slightly acidulated and less sweetened than its cousin of South-west, the prune from Vitteaux is collected on astonishing plum trees with twisted trunks. The Plums are then deposited on trays in wicker and one lets them dry approximately 16 hours. Today, you will be able taste these Prunes in thousand ways: test them natural for the pleasure, out of aperitif "barded" of a fine slice of bacon and slightly roasted or in fine confectionery to carry out delicious disguised fruits...
credits photo : © Marco Mayer - Fotolia.com
Vous êtes producteur, vous pouvez facilement et gratuitement ajouter vos coordonnées ici et ainsi faire connaitre votre production à tous nos visiteurs.


---