Dijon mustard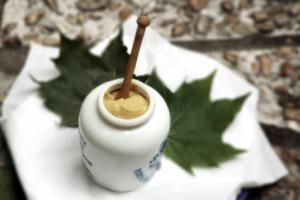 When we speak about the Capital of Burgundy, we cannot prevent ourselves from thinking of famous Dijon mustard. This appreciated condiment of the French is widespread today in the kitchens of the whole world. Mustard is in fact a plant with the multiple varieties of which brown mustard or mustard of China that one uses since the beginning of the XXth century in the manufacture of this typically Burgundian product.
The development of this production in Burgundy area is historically related to the presence of the vines and the industry of the wine. The grapes are indeed used to prepare "verjuice", grapes which never become ripe and preserve with their greenness an acid degree which gives to mustard its prickly. In 1752, it's a dijeonnais, Jean Naigeon, who has the first the idea to substitute for the vinegar this verjuice. Delicious with many grills, the Dijon mustard is also the base of mayonnaise and many other sauces such as sauce gribiche or remoulade sauce. A Rabbit in mustard sauce or a slightly whitewashed roti will make you appreciate with his right value this delicious Bourguignon condiment...
credits photo : © AROM - Fotolia.com
Vous êtes producteur, vous pouvez facilement et gratuitement ajouter vos coordonnées ici et ainsi faire connaitre votre production à tous nos visiteurs.


---