AVPA 2008 contest : oil, honey and dry fruit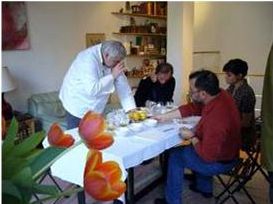 Like in 2007, Patrick Asfaux was part of the trial jury of the AVPA (Agence pour la Valorisation des Produits Agricoles = Agency for the Evaluation of the Agricultural Products) contest that rewards the best oils, honeys and dry fruit. Over 200 products coming from 5 continents ... here is below the list of the winners.
All the products have been presented to the Foods & Goods Show, were numerous professionals, mainly French, went in order to taste the products.
Numerous producers hav made the trip and those who deserved it have received their diploma in hands from the members of the trial jury. Morocco, Spain and Portugal have been honoured when announcing the winners of the olive oil (blind) contest !
For the other oils, we saw a large nice palette of virgin rapeseed oils and of roasted argan oils.
Many visitors were amazed by the large diversity of other than olive oils and surprised by those sometimes unknown tastes.
Here is the list of the winners :
---