Fougasse Bread
From the one star french chef Patrick Asfaux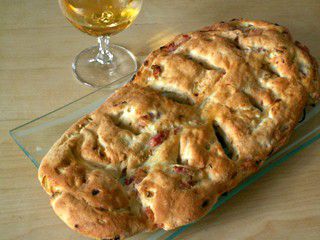 Prepare time :
Cooking time :
Total time :
This traditional bread from the south of France is also called fouace in some of the country.

Recipe for 2 fougasse loafs
500g strong flour (380g for the bread and 120g for the starter)

10 cl warm milk

15g fresh yeast

5g table salt

200g diced pork belly (lardons), blanched

2 onions

50g pitted black olives

1 egg yolk

a nob of butter
Progression
1) Finely slice your onions and gently cook them with the butter for 10 minutes.
2) Mix 120g of flour with the yeast and the warm milk into a soft dough. Cover your starter and allow to rest at room temperature until it doubles in size.
3) Place the rest of the flour onto a clean surface and make a well in the middle. Add the salt and the water as well as the lardons, olives and cooked onions. Mix the lot for a while.
Then, incorporate your starter to this dough. Knead until it forms a neat ball of dough.
4) Cross the top of the dough with a knife and allow it to improve until it doubles in size again.
5) Cut the dough in two and roll each pieces down into the shapes of two ovals 4 cm thick. Then, prick each ovals with a knife, making sure it goes all the way through. Finally, slightly pull each pieces of dough to make the holes appear.
6) Start your oven at 230'C (446'F).
7) Mix the egg yolk with a tablespoon of olive oil and apply this egg wash on the top of the each fougasses.
8) Bake for 35 minutes.
This recipe has been used as a base and modified in several part of France by adding ingredients like anchovies, capers, peppers tuna or smoked duck.
The sweet version of the fougasse : the fougassette in which there is eggs, rum, candied fruits, saffron and orange blossom water is one of the oldest French traditional dessert. Its name comes from the Latin focatia pasta which means wheat dough cooked under the ashes.
credits photo : © Couet Ivan - A.F.Touch