Beaten Cake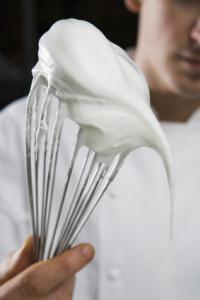 A speciality of maritime Picardie, the Beaten Cake is a brioche cake very rich in the shape of a hat. It is cooked in a specially grooved mould which gives it the particular form. The smallest parts weigh 250 to 300 grams, the largest 400 to 500 grams. Its crust is dark brown, its very alveolate crumb is yellow.

If it is difficult to date the appearance of this speciality and to recall the history of it, its Picardy identity is not a doubt. Formerly, nobody missed an occasion to taste this cake: baptisms, communions, weddings, village festivals. Today, it is appreciated at receptions or as a dessert.


credits photo : © FOOD-pictures - Fotolia.com
Vous êtes producteur, vous pouvez facilement et gratuitement ajouter vos coordonnées ici et ainsi faire connaitre votre production à tous nos visiteurs.


---