Soissons Bean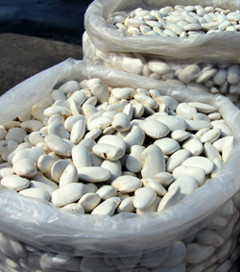 In 1728 take place in Soissons an international conference on the future of Gibraltar. It is claimed that at the time, a Spanish diplomat who came to Picardy for the occasion took in friendship a gardener from the abbey Saint-Léger called "Jacquot". With his departure and as a sign of friendship, the gardener would have made gift to the diplomat of a bean bag larger than those which were cultivated everywhere in Europe. Once replanted, Spanish harvest was particularly appreciated and the famous Soissons Bean "Jacquot" had been born.
The legends are varied as for its origin, but the Soissons Bean remains produced today in the strict respect of the traditions of the past. It is easy to recognyze with its big size and its convex form. It is prepared here in cassoulet or is sold like confectionery. Collected in expenses or dryness, Soissons Bean is preserved easily from 3 to 12 months.
credits photo : © Maria Brzostowska - FOTOLIA
Vous êtes producteur, vous pouvez facilement et gratuitement ajouter vos coordonnées ici et ainsi faire connaitre votre production à tous nos visiteurs.


---