Gras Double Tripe
From the one star french chef Patrick Asfaux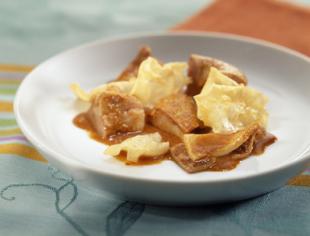 4.9

/

5

(

9

votes)
Prepare time :
Cooking time :
Total time :
Gras double tripe recipe from Issambres (Cote d'Azure in the South of France). Recipe for 6 people
600g gras double tripe ready to cook

600g veal shank

50g Parmesan cheese

800g carrots, peeled and sliced-up

500g onion, peeled and finely sliced

4 stalks of celery, peeled and diced-up

6 cloves garlic, cored and crushed

1 non-treated lemon, sliced in 6

1.5kg tomatoes, peeled, seeded and quartered

1 tsp thyme

1 bay leaf

3cl white wine alcohol

salt and pepper
Progression
1) Slice your tripe in pieces half a inch thick. Season them with salt and pepper.
2) Start your oven at 160'C (320'F).
3) In a cast iron pot, place your tripe then the veal shank (sliced) the onion, carrots, celery, garlic, tomatoes,lemon slices, thyme, bay leaf and alcohol. Add some cold water level with the ingredients and season well with pepper.
4) Cover and place your pot in the oven for 4h30.
5) There you go it is ready to serve! Pour your gras double tripe onto a shallow serving dish. Take the bay leaf out and remove the bones from the veal shank.
6) Sprinkle the lot with the Parmesan cheese and place your dish under the grill for 5 minutes. Then, serve...
ps : gras double tripe is also called plain tripe, smooth tripe, blanket tripe or flat tripe. It is an offal taken from the rumen (first stomach of mutton or beef). It is quite lean despite its French name witch literally
means double fat.
credits photo : © FOOD-micro - Fotolia.com