Bleu d'Auvergne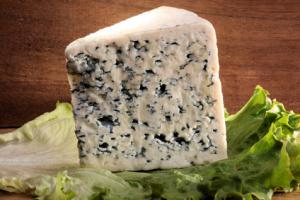 It is about 1845, that an auvergant peasant had the idea to sow soft white cheeses with a blue mould, coming from the rye bread, and to then bore its cheese with a needle so that the penetrating air by these holes makes it possible these moulds to develop. Thus was born "Bleu d'Auvergne", this delicious cheese with its firm and silky character.
Auvergne is a country of mountains to the hard climate. Its volcanic grounds have a rich ground and are by the way the field of the pastures. There, the cows nourish themselves of an abundant and varied flora. The Bleu d'Auvergne draws its generous taste of this wild nature. It is a blue-veined cheese, covered with a flowered natural crust. It goes harmoniously with framed red wines, Madiran, Cahors, Burgundy but also Côtes-du-Rhône wine.
credits photo : © Claude Calcagno - Fotolia.com
Vous êtes producteur, vous pouvez facilement et gratuitement ajouter vos coordonnées ici et ainsi faire connaitre votre production à tous nos visiteurs.


---