Saint-Pourçain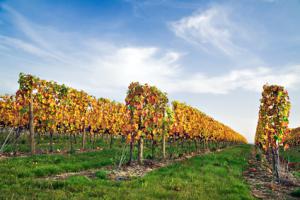 The vineyard of Saint-Pourçain extends on 19 communes from the department Allier. It would be one of oldest of France and would draw its origin from the Phenician colony, installed on the place called today Chantelle, which, by planting vine on the slopes of Bouble (affluent of Sioule) would have posed the bases of the culture of Saint-Pourçain. As of the Middle Ages, the wines of Saint-Pourçain are present at the table of the kings. Henri IV was one of the most famous fan of white wine of Saint-Pourçain.
The grounds diversity of the field of Saint-Pourçain gives birth to from the red, white and rosy wines of character. The assembly containing Pinot, Gamay, Chardonnay, Sauvignon and Tressailler gives a light wine, spiced a little which can be drunk on any occasion.
credits photo : © Maceo - Fotolia.com
Vous êtes producteur, vous pouvez facilement et gratuitement ajouter vos coordonnées ici et ainsi faire connaitre votre production à tous nos visiteurs.


---