Floating Island
From the one star french chef Patrick Asfaux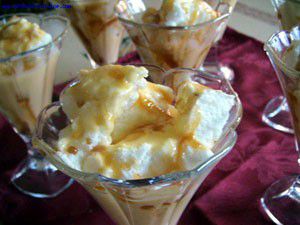 4.9

/

5

(

50

votes)
Prepare time :
Cooking time :
Total time :
Floating island recipe for 6 people :
1/2 l of French custard

for the meringue :

5 egg whites

80g caster sugar

1 tsp vanilla sugar

1 pinch table salt

for the caramel

50g caster sugar and tablespoon of water
Progression
1) Start the oven at 150'c (302'F)
2) Put your egg whites in a bowl. Add the salt and whisk until stiff. Then, add the sugar and vanilla sugar. Whisk for another 5 minutes.
3) Pour your meringue into a baking tin and place them in a bain-marie. Bake for 35 minutes.
4) When done take your tin out of the water and let your meringue cool down completely.
5) Take your cooked egg whites out of the tin and cut them in 6 equal slices. Pour some French custard at the centre of each plates and place a slice of meringue on the top of it.
Prepare your caramel :
6) pour your sugar in a pot then add the water and cook until golden blond. Then, drizzle some of it onto the meringue.
Keep your floating island in the fridge.
credits photo : ROSKO © A.F.Touch-cuisine